Zurako (ズーラコ) was a parasitic wart who took the appearance and personality of Katsura Kotarou in Episode 202.
Appearance
Edit
Zurako has the same appearance as his host, Katsura Kotarou, although he wears female clothes and has more feminine features. Even his voice sounds more like a woman would be.
Unable to believe everything around him, Shinpachi runs as far as he can until he reaches a cliff, and demands to know whether everyone is just messing with him, as in those two years he's become totally out of place. At this point though he meets someone who understands how he feels, a new feminine Kyuubei, and has also happened to take quite a liking to him as well. However in another unexpected twist, it turns out that the heroes of babel failed in those two years, and seeing this Katsura shows up and accuses Kyuubei of further trying to overlap with his character. However he had foreseen this and decided to beat her to the punch, becoming Zurako.
In Episode 203, the news report about a parasitic wart that changes the host into what they aspire to be and gives them the impression that two years have passed, with the cure being to simply smack them with a fan. Later, Otae arrives with her newborn child, revealing that the father is none other than Hijikata, and that she's left Kondo to be with him. Soon after this though, Kondo also arrives and reveals that he has his own "child" before attempting to make off with the one Otae brought along, threatening to jump off the edge.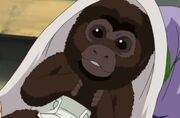 Zurako also arrives with a baby girl gorilla called Goriko that he claims is his and Kondo's child, in order to convince him not to jump, and if this wasn't enough, Kyuubei arrives with one as well and attempts to make off with them all. So with all of this, Shinpachi takes them all out in one decisive blow and finds that Hijikata was also infected by a wart. Having done this, he now resolves to do his best and get even better, however Gintoki arrives and reveals that Shinpachi was actually a wart all along. He then removes his wig and questions why he was the only one not infected as he uses the Final Getsuga Tenshou.
Strength & Abililties
Edit
As a parasitic wart, Zurako had the ability to copy his host's personality and appearance at the perfection.
References
Edit
Community content is available under
CC-BY-SA
unless otherwise noted.