We can suffer by trying to resist the weakness and change ourselves. We are free creatures.
Yoshida Shouyou


Yoshida Shouyou was a head of a private school named Shoka Sonjuku and the master of Oboro, Sakata Gintoki, Takasugi Shinsuke, Katsura Kotarou, and Imai Nobume.
Background
[
]
Shouyou is the last split personality developed by Utsuro, a human who became immortal thanks to the high amount of Altana within his body. For five hundred years, Utsuro became a government assassin, forming a trained assassin group known as Tenshouin Naraku and lead them with his other bloodthirsty personalities. Utsuro's original personality started to resist the way his other selves continued to slaughter and it resulted in the accidental creation of Shouyou, who was able to suppress the other personas, becoming the one in control. During an assassination of a household, Shouyou comes across a dying slave child and heals him using his blood. The child, Oboro, stays with Shouyou in gratitude despite the Naraku leader's warnings that he may end up being trained with the Naraku. Shouyou reveals to him that he has become wary of all the killing and death and wishes to open his own school to teach children, asking Oboro to become his first student.
Shouyou is able to defect from the group and Oboro later flees with him. While camping, Shouyou suggests the name Shouka Sonjuku for his new school and again asks that Oboro becomes his first disciple. Later in the night, Oboro finds Naraku assassins near their position and uses himself as bait to draw them away from Shouyou. He also springs a trap, set by the man, that kills Oboro along with some of the assassins, while Shouyou watches on. Devastated, Shouyou escapes and for a while wanders around Japan. He hears rumors of a "corpse-eating demon" within battlefields and encounters a child named Gintoki. Seeing the similarities between himself and Gintoki, Shouyou decides to take him in and train him, giving Gintoki his sword. The two wander around the country until settling down and opening the school near a village where the young Takasugi and Katsura live.
They gain many young, mostly poor, students and they also receive both Takasugi and Katsura, who became disillusioned with their own school discipline and gravitated towards Shouyou's philosophy, trying to find one's own ideals while struggling against themselves. A few years later, the Naraku arrive to arrest him and despite Gintoki's best efforts, Shouyou leaves without resistance and the school is burned down. Before leaving, he asks Gintoki to protect his fellow students for him. Unknown to the students, Shouyou was arrested for defecting from the Naraku, while they believed that it was a wrongful arrest for teaching "dissent" to the students. Unknown to Shouyou, the person who revealed his location was Oboro, who somehow survived thanks to Shouyou's immortal blood and trained with the Naraku to distract them from finding the ex-leader. Oboro happened to walk past Shouyou, Takasugi, Katsura, and Gintoki when they left the school and grew jealous of the happy atmosphere, wanting his teacher back.
The students decide to join the ongoing Joui Wars to save their teacher, inadvertently prolonging the war for a while. In jail, Shouyou teaches his jailer, Mukuro, while Oboro looks on in displeasure. During a battle, the surviving students are massacred and Gintoki, Katsura, and Takasugi are captured. The Tendoushuu decide to execute him by first showing him the bodies of his dead students and forcing his "first" disciple, Gintoki, to choose between killing him or killing Takasugi and Katsura. At the same time, Shouyou's original personality breaks free and decides to kill off his other personalities and leaves Shouyou for last, convinced that they will continue to suffer and decides to take matters into his own hands to end everything. Instead of seeing his impending death to Utsuro, he thanks Gintoki for keeping his promise to protect their friends with a smile. And he is killed figuratively and literally by Utsuro and Gintoki respectively.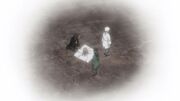 Gintoki, Takasugi and Katsura are left to wallow in despair for their failure along with Shouyou's head. They bury the head and their comrade's bodies and went their separate ways. At the same time, Shouyou's body is burned by the Naraku until they see him revive in front of them, head regrown and body burnt-free. But the body now permanently belongs to the original personality, Utsuro.
Legacy
[
]
Throughout the series, Yoshida Shouyou was shown to have great influences on Gintoki, Katsura and Takasugi. Shouyou is widely seen to be an impactful philosophical preacher, affecting even fierce brutes like Gintoki and Mukuro. His teachings were so important to both Katsura and Takasugi that they still carry the textbooks with them as adults, with the books ironically saving both of them later. While Gintoki claimed to have spilled ramen over the book and threw it away, it is evident that he keeps his respect and gratitude to Shouyou in heart.
Moreover, his death had greatly affected his three students. After the Joui War, Takasugi became willing to destroy the world, seeing his teacher's death as a proof of the world being unbearably corrupted. Katsura also shared the desire to destroy the world too, but due to re-meeting Gintoki, realized that there were many people he cherished and wanted to protect; in doing so, he believed that there would be a way to change Edo that would not sacrifice many lives, saying that was what Shouyou would have hoped for if he was still alive.
As for Gintoki, he was said by Katsura to have taken the death of Shouyou the hardest because of Gintoki's actions. Greatly respecting Shoyo, he believed that Jiraia's cowardice and his attitude towards Tsukuyo had dishonoured the titles of a mentor and teacher during the Red Spider arc. In addition, Gintoki had also shown a dark side, in which he wants to slay anyone related to his teacher's death.
After Utsuro's defeat in the Silver Soul Arc, he was reborn as a baby. Gintoki took care of the baby and watched him grow rapidly into a young boy. After saving the boy's life, the boy reveals that he has memories of his past lives, especially his life as Shouyou. While chased by the Naraku and to prevent Utsuro's resurrections, young Shouyou carves out his heart and entrusts it to Gintoki. His body, in a comatose state, was taken back by the Naraku and stored for research purposes.
His body was taken by the Seibouists, a cult which believes in Utsuro and immortality. He was attached to a machine on the terminal in order to restore his adult body and reawaken him through giving him an artificial heart of altana. During the raid on the terminal, Shoyo's young body immediately matured. Eventually, he awoke with a member of the Tendoshuu waiting for him. Distraught, he killed the Tendoshuu and found a weakened Takasugi begging to come with him to live in the province peacefully. He came close to Takasugi, held his shoulder and said that he was sorry because he can no longer be Shoyo. In a sudden turn of events, Takasugi's body gets controlled by Utsuro, and he attempts to stab Shoyo. The attempt fails as Takasugi, with Oboro's help regain control. Shoyo gets to flee and meets up with Shinpachi and Kagura. He had a short conversation with Shinpachi about how he brought nothing but pain and suffering to his students, to which Shinpachi replies that they're all grateful to him for making Sakata Gintoki the man he is, in turn becoming a part of their lives. They reach a central core of the terminal where he decided to sacrifice himself so that he can 'cancel out' the overflowing Altana. He makes a last call to Katsura, entrusting the safe evacuation of all those in the building to him. At the very last moment Gintoki makes it in time to be reunited with his teacher and the Yorozuya, before Shoyo disintegrated into the Altana.
Appearance
[
]
Shouyou's appearance is very similar to that of Katsura. He has long light brown-grey hair and green eyes. He also wears a grey robe and a haori. He is often seen with a gentle smile on his face.
Gallery
[
]
Personality
[
]
A kind and gentle man, Shouyou was the kind of man who remained in his students' memories long after he died. Well known for his ways, he always extended his hand to children and possibly adults: Gintoki was outwardly adopted by him and the poor children who attended his school were always welcomed for free. He supplied his own books and even was shown teaching Imai Nobume his lessons despite the fact that they were prisoner and captor. When Takasugi and Katsura started coming to his school, he wasn't fazed at all, even welcoming Takasugi despite his eagerness to defeat everyone there in Kendo and even treated him just like Gintoki. Noticeably, Gintoki was allowed to sleep during lessons and Shouyou didn't ever seem to mind, and when Katsura attempted to defuse a situation by making rice balls for everyone, Shouyou ate several and assisted in calming Takasugi and Gintoki.
But like all Gintama characters, Shouyou has a peculiar trait: being capable of knocking people literally into the ground with a single tap on their heads. He always uses this technique when berating or warning his students when they go out of their way to do something for him (like attacking the government officials looking for him, or when Gintoki attempted to save his future friends from bullies), always saying with it "You're a 100 years too early for [current situation]".
In all aspects, it was clear to see why Gintoki and Takasugi went the paths they went on after Shouyou's death: Gintoki had lost his father figure and Takasugi lost the only person who could understand him.
As he was revealed to be Utsuro's good personality, Shouyou had a strong willpower to control Utsuro's body and suppressed his other personas so he can try his best to redeem himself for a greater good.
His influence was such, that during the Silver Soul Arc, the main antagonist, Shouyou's original personality, Utsuro, hesitated when he saw the perseverance of the humans he hated including the human that Shouyou placed his hope in, as if the teacher himself was holding the immortal in place for the final blow. This didn't kill Utsuro but made him acknowledge them. Even later when Utsuro reincarnated with a new personality, hearing Shouyou's name and seeing Gintoki was enough for the new personality to focus more on Shouyou's memories then any other, whereas Utsuro begin to possess Takasugi's body at time of Shouyou's revival.
Strength & Abilities
[
]
Since Shouyou and Utsuro share the same body, all of Utsuro's abilities Shouyou knows as well.
Relationships
[
]
Students
[
]
Enemies
[
]
Others
[
]
Trivia
[
]
Quotes
[
]
References
[
]