.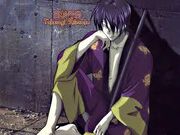 Hello. This is manani. A simple person who tends to edit whenever I can (though mostly it is just simple spelling mistakes or something like that). I mostly write as I have been trying to write my own novel.
My thoughts on the show personally is that most of its comedy is either hit or miss (mostly because there are some situations that work -like episode 78 for example- or some of its comedy just makes me feel confused. Though at the same time I prefer the story arcs as to me it feels the most interesting (and yet I might be alone on this).
Anyway Shinsuke would be my favorite character of the series (mostly because of his design or that I like his voice).
Community content is available under
CC-BY-SA
unless otherwise noted.