Shura (修羅) is the fifth ending theme of the Gintama anime series. It is performed by DOES. Having run through the episodes of the Benizakura Arc, this ending features the events of this arc. "Shura" reached #9 on the Oricon chart, and stayed on the chart for a total of 15 weeks.
Tracklist
Edit
Shura
Winding Road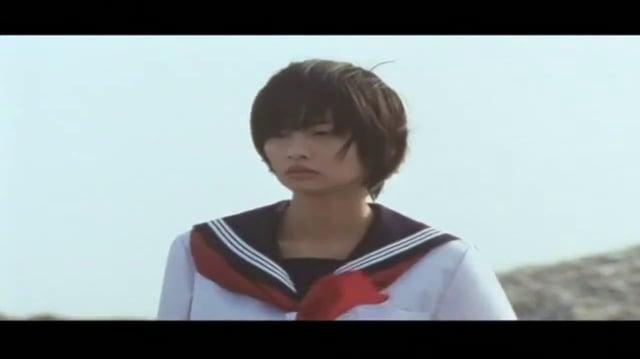 街角は色めく
少女らの縄張り
寂しがりなおさげ
旋風に揺れて
耳障りな誘惑
花椿の香り
雲無しの午後には
僕の修羅が騒ぐ
焼け付く想いは憂い募らせる
重なる面影を見つけては項垂れている
一、だれか僕の
二、火を消して
三、飛ばしてくれ
四、イエイエ
駆け抜けた一撃
エレキテルびりびり
悩ましげなまつげ
そこはかとなくだるい
燻ぶる思いは憂い募らせる
あの日の思い出を薄めては大人びていく
一、だれか僕に
二、火をつけて
三、燃やしてくれ
四、イエイエ
machikado wa iromeku
shoujora no nawabari
sabishi gari naosage
tsumujikaze ni yurete
mimi zawari na yuuwaku
hanatsubaki no kaori
kumonashi no gogo ni wa
boku no shura ga sawagu
yaketsuku omoi wa urei tsunoraseru
kasanaru omokage o mitsukete wa unadareteiru
hii, dareka boku no
fuu, hi o keshite
mii, tobashitekure
yon, ie ie
kakenuketa ichigeki
erekiteru biribiri
nayamashige na matsuge
soko haka to naku darui
kusuburu omoi wa urei tsunoraseru
ano hi no omoide o usumete wa otonabiteiku
hii, dareka boku ni
fuu, hi o tsukete
mii, moyashitekure
yon, ie ie
The street corners grow lively: It's the girls' territory
Lonely braids waver in the stir of the wind
A temptation that hurts my ears and the smell of camellias
On a cloudless evening, the warzone within me begins to clamour
These burning feelings strengthen my distress
I see the overlapping traces, and hang my head
One, someone please
Two, put out my fire
Three, and let me fly free
Four, yeah yeah
A single shock ran through my body, rippling like electricity
Those yearning eyelashes have a certain languid charm
These smouldering thoughts strengthen my distress
As I grow up, the memories of those days fade
One, someone please
Two, light my fire
Three, and let me burn
Four, yeah yeah
Characters
Edit
The characters in order of appearance:
References
Edit
Community content is available under
CC-BY-SA
unless otherwise noted.