The Old Man was the owner of Kintarou. He picked Kintarou up after his mother and siblings had died, leaving him alone in this world, everyday telling him to die, although indirectly asking him to die before him so he wouldnt be left alone.
Background
[
]
All of his friends died before him, even her wife and he cried for all of them. He took a newborn dog named Kintarou to his home and became his buddy, with one condition: Kintarou would die before him and he would cry for Kintarou. He always went to a park to walk with Kintarou and always competed with him.
Appearance
[
]
Personality
[
]
Relationships
[
]
Pet
[
]
Story
[
]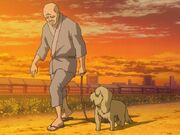 The old man was staying in a hospital and was about to die. He suddenly got up and left the hospital. He went to a park with a leash in his hand and saw Kintarou. He only had one candle left and told Kintarou that he finally looks like he is about to die, but Kintarou caught the leash and started to go with the old man. They both fell down and then got up and started to run. The old man fell first and then Kintarou after him, but the old man wasn't dead yet. He stated that he won because Kintarou made him cry and died.
Trivia
[
]
References
[
]