Mr. Raindrop (ミスター・レインドロップ) is the second ending theme of the Gintama anime series. It is performed by amplified. This ending features Elizabeth. "Mr. Raindrop" reached #75 on the Oricon chart, and stayed on the chart for a total of two weeks.(GintamaED02)
Mr.Raindrop
Back.Together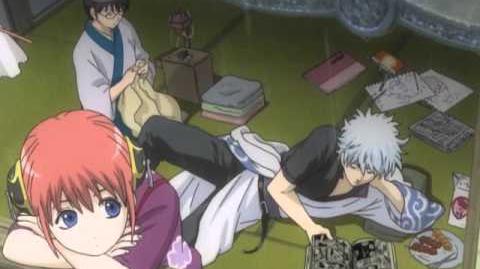 Mr.raindrop falling away from me now
Mr.raindrop falling away from me now
Mr.raindrop falling away from me now
Mr.raindrop falling away from me now
Do u know how much you mean to me
Why must you leave?
I'm just a flower on a tree
Why must you leave
Do you know how much you mean to me why must you leave?
I'm just a flower on a tree
Why must u leave?
Mr.raindrop falling away from me now
Mr.raindrop falling away from me now
Falling away from me now
Mr.raindrop falling away from me now
Mr.raindrop falling away from me now
Mr.raindrop falling away from me now
Mr.raindrop falling away from me now
The characters in order of appearance:
This is the only theme that is entirely in English.
It is similar to 'Raindrops keep falling on my head'
The band who san this song, Amplified, originated from Hong Kong. Making the first and only band to be featured in Gintama outside Japan
YouTube link ----> https://youtu.be/vnU81QnWhXA
Community content is available under
CC-BY-SA
unless otherwise noted.