Please be aware, before progressing any further this site contains heavy SPOILERS.


The Gintama wiki was created on March 22, 2009 and is currently housing 1,688 articles, and 4,086 files.
We need YOUR help to expand our content and add more articles!
---
---
| | |
| --- | --- |
| | If you're new to Wikia, please use the above links to get started. If you already have editing experience, and you have an article relating to Gintama to contribute, use the box below to create it: |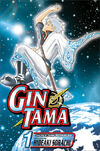 The Gintama manga is authored by Sorachi Hideaki for Shounen Jump, while its anime adaptation was created by Sunrise/Bandai Namco. It is at its core a post-modernist comedy with period drama and science-fiction mixed in. Meaning you not only see historical expies of samurai and ninja but also space monsters and aliens; all wrapped in a bundle that can make you laugh.


Locations & Settings

Click here to find out all about the locations & settings of Gintama!


Okita Mitsuba single-handedly brought up younger brother Okita Sougo when their parents passed away while Sougo was still very young. She admitted herself that she pampered Sougo until he is spoilt rotten, resulting in the aloof character that he is now. She took such great care of him that she neglected her own health and developed tuberculosis, and forfeited her own chance for marriage when she was of marriageable age. As a result, Sougo respected her immensely.
Click here to view a different Random Character

New-comer pop-idol Terakado Tsuu and the leader of idol group 'Hansamu', Goemon were discovered to be in love! This news made the Imperial Guards extremely disappointed ...
Episode 30
Click here to view a different Random Episode

Official Web sites for the Gintama Series
Other Gintama wiki sites (Other Lang)
Other Gintama wiki sites (ENG)



How to Watch Gintama with a list of episodes that are skippable and eps you need to watch to enjoy the Gintama anime
Gintama Episodes 1 and 2 are filler
Gintama Episodes 3-201
Gintama Movie 1
Gintama Epi…
See more >
BIRTHDAY(S)


Tagosaku
タゴサク
9 Mar / Pisces



お誕生日otanjoubi

おめでとう
omedetou
ございます !!!
gozaimasu !!!
Community content is available under
CC-BY-SA
unless otherwise noted.