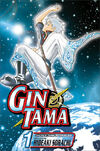 The Gintama manga is authored by
Sorachi Hideaki 空知 英秋
, and the anime series is based on the manga. The manga was first serialized in Weekly Shounen Jump, interspersed with the occasional episode created by the anime creators themselves. In accordance to the manga's original premise, the series is a part-period drama, part science-fiction and 100% comedy; with elements of space monsters and aliens mixed with historical samurai and ninjas. The story centers around...





Greetings! I work for Wikia, and in light of the amazing work being done here I've been asked to extend an offer to build a skin (custom background with Gintama graphics, custom wordmark logo, color …

Read more >
| Recent Forum Topics | Last edit |
| --- | --- |
| Is Elizabeth a HE? A SHE? Or None of the Above? Discuss and give your reasons | 08:59, February 24, 2014 |
| GIntama Anime Episode 231 Vs Its Manga Chapter | 04:13, February 4, 2013 |
| Question | 13:57, June 2, 2010 |
| Should Itou Kamotarou be allowed to live? Discuss, and give your reasons | 16:23, April 12, 2010 |
| Test5 | 08:31, March 19, 2010 |
| Suggestion | 17:07, August 27, 2013 |
| Top-10 Favourite Gintama Characters | 22:08, August 5, 2015 |
| Favourite Gintama Character | 16:16, March 11, 2011 |

This wiki needs an English Language editor who will perform the following duties:
check for errors in the articles (typos, grammar etc), grasp of English must be fairly good
finish up or complete the sentences/paragraphs of which outline/bullet point forms have already been added
move or duplicate completed text to the appropriate places, e.g. certain info belonging to 1 character, such as the father, has been inadvertently included in another character's page, such as the daughter, moving info on say, 'Personality' to 'Storyline' section etc.
No need to check Japanese kanji or romaji, prefer that such info not be touched unless editor himself/herself knows the Japanese language
Please drop a note on any of the admin talk-pages (currently User:Gin-san) if you wish to take up this post, must be able to commit min. 3 hours per week.
Click on Category:Editing_needed for a list of pages where editor's attention is required.


Additional information/help is kindly requested from other contributors for the following items:
Translation (from Japanese text) of the Episode Synopses OR
Provide English synopses for all episodes
To upload missing images for ' Sadaharu Bites' and ' 'Attacks' on Hijikata by Okita' under Trivia section
Click on Category:Pages_in_need_of_Verification for a list of pages that require clarification.
Help us upload these missing images!.
6. Help us update these Character pages !


Loading RSS data...



Create blog post
How to Watch Gintama with a list of episodes that are skippable and eps you need to watch to enjoy the Gintama anime




Gintama Episodes 1 and 2 are filler
Gintama Episodes 3-201
Gintama Movie 1
Gintama Epi…

Read more >

I have signed up to adopt this wiki as a new admin, but I need input from you other active or semi-active users so the staff itself can understand the need of a new administrator as per guidelines of…

Read more >

Has anyone noticed that Sakamoto's voice was not of his regular voice? Like I don't know at the moment and I just need confirmation. I also noticed it with Mutsu and Umibozu. Can someone please clear…

Read more >
See more >
Official Web sites for the Gintama Series


Other Gintama wiki sites (Other Lang)


Other Gintama wiki sites (ENG)[1]


---

↑ These wiki sites are not endorsed by gintama.wikia.com and are listed here purely for information only. Viewers' discretion strongly advised.