Please be aware, before progressing any further this site contains heavy SPOILERS.


The Gintama wiki was created on March 22, 2009 and is currently housing 1,676 articles, and 4,049 files.
We need YOUR help to expand our content and add more articles!
---
---
| | |
| --- | --- |
| | If you're new to Wikia, please use the above links to get started. If you already have editing experience, and you have an article relating to Gintama to contribute, use the box below to create it: |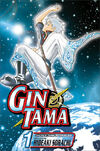 The Gintama manga is authored by Sorachi Hideaki for Shounen Jump, while its anime adaptation was created by Sunrise/Bandai Namco. It is at its core a post-modernist comedy with period drama and science-fiction mixed in. Meaning you not only see historical expies of samurai and ninja but also space monsters and aliens; all wrapped in a bundle that can make you laugh.





Hijikata Toushirou is the Vice-Commander of the Shinsengumi, second in command to Commander Kondou. Before joining Shinsengumi, he used to be a trouble-maker ronin as he enjoys having a good fight. He was called the Demonic Vice-Commander, feared by all of his subordinates, except Okita Sougo.
Click here to view a different Random Character


Oiwa absorbed her 'Stand' Tagosaku into her body and became 'His Excellency' with fearsome powers. It was then that Gintoki began taking on different 'Stands' to try and defeat the powerful Oiwa-Tagosaku combo ...
Episode 134
Click here to view a different Random Episode


Official Web sites for the Gintama Series
Other Gintama wiki sites (Other Lang)
Other Gintama wiki sites (ENG)


Loading RSS data...



Create blog post
How to Watch Gintama with a list of episodes that are skippable and eps you need to watch to enjoy the Gintama anime




Gintama Episodes 1 and 2 are filler
Gintama Episodes 3-201
Gintama Movie 1
Gintama Epi…

Read more >

I have signed up to adopt this wiki as a new admin, but I need input from you other active or semi-active users so the staff itself can understand the need of a new administrator as per guidelines of…

Read more >

Has anyone noticed that Sakamoto's voice was not of his regular voice? Like I don't know at the moment and I just need confirmation. I also noticed it with Mutsu and Umibozu. Can someone please clear…

Read more >

Is it any point for writing in the Trivia sections that a character's Japanese voice actor voices characters from other anime? Most of the Trivia sections from other anime that I happened to read don…

Read more >
See more >


Gintama is one of my favourite anime series & I am:
Community content is available under
CC-BY-SA
unless otherwise noted.