Spider-Man: No Way Home Trailer Dropped - The Loop
Play Sound
Kiseki (奇跡) is the sixth ending theme of the Gintama anime series. It is performed by SNOWKEL. This ending features the characters watching the Meteor shower. "Kiseki" reached #32 on the Oricon chart, and stayed on the chart for a total of four weeks.
Tracklist
[
]
Kiseki
Please!
Kimi no Te
Video
[
]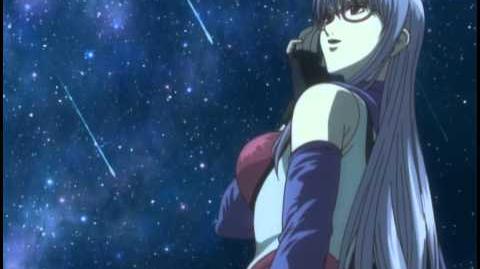 Lyrics
[
]
夕方丘に登って 一番高いところに立って
ホントに沈む夕日を見送って 君にも見せたくって
無我夢中で風を切って 間に合わず星見上げたりして
偶然ばかりで成り立つ物語 少しでも気を抜くな綱渡り
僕らは不純と矛盾を両手にひた走る
君に告げられる前から僕は知ってた「奇跡はある」って
時々見えなくなるけど 目をつむってさ 深呼吸でいける
あれから時間は経って 僕らは猫背になって
人の視線気にしては気取って 言われたことだけやって
結果が出るのを待って どうかしてる自分に気付かずに
損得だけで話は先走り 何かといえばすぐに欲ばかり
せっかく慣らした道にまた雑草が育つ
君が言ってくれなければ僕が言ってた「奇跡起こそう!」って
願い事と流れ星があれば あとはモウソウ なんとかなるはずさ
不幸なんて気が付きゃ 通り過ぎてたよ
泣きたい時 笑ってた方が悲しいや
自分の気持ちさえ見てみぬ素振り 誰かの真似してりゃまた空回り
子供の頃なら なんでも出来ちゃいそう あの感じでしょう!
君に告げられる前から僕は知ってた「奇跡はある」って
時々見えなくなるときゃ メガネ掛けてさ 何かに気が付ける
ためらってる暇はないよ 声に出さなきゃ「ひとつになろう!」って
素敵な台詞(ことば)じゃなくても 気にしないでさ

未来の渦を 彷徨い続けてく
yuugata oka ni nobotte
ichiban takai tokoro ni tatte
honto ni shizumu yuuhi wo miokutte
kimi ni mo misetakunatte mugamuchuu de kaze wo kitte
maniawazu hoshi miagetarishite
guuzen bakari de naritatsu monogatari
sukoshi demo ki wo nukuna tsuna watari
bokura wa fujun to mujun wo ryoute ni hita hashiru
kimi ni tsugerareru mae kara
boku wa shitteta "Kiseki wa aru" tte
tokidoki mienakunaru kedo
me wo tsumuttesa shinkokyuu de ikeru
are kara jikan wa matte
bokura wa nekose ni natte
hito no shisen ki ni shite wa ki totte
iwareta koto dake yatte keika ga deru no wo matte
doukashiteru jibun ni kizukazu ni
sontoku dake de hanashi wa sakibashiri
nani ga to ieba sugu ni youku bakari
sekkaku narashita michi ni mata zansou ga sobatsu
kimi ga ittekurenai kereba
boku ga itteta "Kiseki okosou" tte
negaigoto to nagareboshi ga areba
ato wa mousou nantoka naru hazu sa
fukou nante ki ga tsukya toori sugiteta yo
nakitai toki waratteta hou ga kanashii ya
jibun no kimochi sae mite minu sokori
dareka no mane shiterya mata kara mawari
kodomo no goro nara nante mo dekichaisou ano kanji deshou!
kimi ni tsugerareru mae kara
boku wa shitteta "Kiseki wa aru" tte
tokidoki mienaku narutokya megane kakete sa
nanika ni ki ga tsukeru
tameratteru hima wa nai yo
koe ni dasanakya "hitotsu ni narou" tte
suteki na kotoba janakutemo ki ni shinaide sa

mirai no uzu wo samayoi tsuzuketeku
In the evening i climbed the hill
to the tallest place and stood
and bid farewell to the sun that seemed to be sinking
There are stories that are based on coincidences
Always concentrate when you're walking on a tightrope
We run with impurity and inconsistency in each of our hands
Even before you announced everything,
I Already knew
that " There can be miracles "
Whenever I Have a hard time seeing
I Just put on my glasses,
and I'm able to do something.
There's no time to be hesitating.
I Have to shout out,
" Let's become one! "
Even If they're not suitable words,
I Don't really care,
I Just Continue to wander through the whirlpools of the future.
Characters
[
]
The characters in order of appearance:
Trivia
[
]
References
[
]