Obi-Wan Finale - The Loop
Play Sound
Kintarou (金太郎) was a powerful parasitic alien called Parasite X or Planet Eater. Parasite X decided to gamble which creature he would host when conquering Earth and ended up inside a puppy. He got adopted as pet dog by Old Man.
Background
[
]
He tried to attach himself to a life form and conquer earth 18 years ago, but entered into a dog that almost died in its mother's womb. Old Man took him to his home after his mother and siblings had died due to a difficult labor. He became the Old Man buddy, but with one condition: Kintarou would die before him and he would cry for Kintarou. Kintarou competed with him and always wanted him to die so he can conquer the earth.
Appearance
[
]
Personality
[
]
Relationships
[
]
Master
[
]
Story
[
]
Kintarou was about to die, so his father's son gave him to a veterinary. Katsura and Kagura decided to take the dog to see his master one last time, but when Kintarou got out of his cage, he kicked Katsura and stated that he won't see the old man.
They went out to drink something. Kintarou introduced himself as a planet eater and started to how he came to the earth. They all started to ride on Sadaharu, and go to Kintarou's master, but the cats, planet pukers, started to pursue them. Katsura tried to convince them and when he failed, he jumped towards them to draw their attention, but the cats didn't look at him and fell to the ground. Kagura used Kintarou as a bait and lots of cats caught him, but Kintarou used his ultimate move Candlelight Last Sparkling, and managed to throw all of the planet pukers.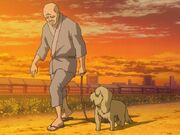 They took shelter in a park. Kintarou had exhausted himself so he only had five candles left in his life gauge, but Kagura switched one of them with her firework, but it melted one of the candles. Sadaharu extinguished it by pissing on them. Only three candles were left. Kagura wanted Kintarou to see the old man, but Kintarou told her about the bad relationship between them. The old man suddenly appeared in front of them with a leash in his hand and shocked Kintarou. Cats found Kintarou, but Kagura stopped them. Kintarou caught the leash and started to go with the old man. They both fell down and then got up and started to run. Kintarou wanted him to stop and die, so he wouldn't cry. The old man fell first and then Kintarou after him.
Trivia
[
]
He's a parody of Migi from Parasyte.
References
[
]