Episode 62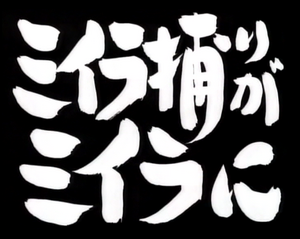 Quote:
"Regarding Joui activities, I don't think he (Sakata Gintoki) concerns himself with such complicated things. That man, only wants to see a smile on that girl's face"

Yamazaki Sagaru
Introduction
After the events involving the Benizakura, Yamazaki is sent to spy on the Yorozuya to determine his connection with the extremists in Oedo.
Plot
Shinsengumi's Inspector Yamazaki reported on the clash between Katsura's faction and Takasugi's faction to Vice-Commander Hijikata Toushirou. Hijikata wondered how Katsura's faction, without any capable men to speak of, were able to fight off Takasugi's faction, which had heavyweight stalwarts like Kawakami Bansai 河上 万斉 and Okada Nizou 岡田 似蔵. Yamazaki replied that Katsura was assisted by Sakata Gintoki 坂田 銀時. Hijikata explained (while wolfing down a bowl of 'Hijikata Special') that he ignored Gintoki in the past because there was nothing suspicious about his activities that relate to Joui activities then. Now as Gintoki was injured in the same fracas, a link is established, and Yamazaki was ordered to investigate Gintoki's relationship with Jouishishi, with the orders that Gintoki is to be killed if investigations proved that he is indeed a Joui rebel.
Yamazaki carried out the order by first interviewing all those people who hung out with Gintoki, including Hasegawa Taizou 長谷川 泰三, Terakado Tsuu 寺門 通, et al, but could not turn up anything to tie him down. He even visited Yorozuya's office, but it was closed as both Kagura 神楽 and Shimura Shinpachi 志村 新八 were taking care of Gintoki at the Shimura dojo, as informed by Otose お登勢.
Thus Yamazaki decided to infiltrate the compound where Gintoki was recuperating, aka the Shimura dojo, Koudoukan 恒道館. Though his entry into the dojo was smooth, little does he know that leaving the compound would be fraught with danger ...
after the credits Gintoki is cover bandages the pain is worsts from Otae's traps.
Characters
Trivia
While Yamazaki was interviewing Otsuu,
JUMP manga read out by Kagura to Gintoki -
Commercial plug for Otsuu's CD release -
The SOL 740 (full name ストーカーおしおきレーザービーム suto-ka oshioki re-za-bi-mu aka Stalker Punishment Laser Beam). This is a reference to Akira's SOL 740 satellite that tried to destroy Tetsuo. [2]
When Kondou was stuck in the pit, he asked why is his saviour's name in the form of a death spell -
The dish Otae prepared for Gintoki is actually porridge or congee, 粥 gayu, tamago-gayu, simply means porridge with egg. It became brownish-black because of the burnt fried egg.
This is the first episode Kondou and Hijikata are appear without Sougo in this episode.
---
Back to Episode List
Go back to Main Page
---
References
↑ For more details on Strawberry 100%, refer to Wikipedia Link.
↑ For more details on Akira, refer to Wikipedia Link.
Community content is available under
CC-BY-SA
unless otherwise noted.