Mistaking Someone's Name is Rude! (人の名前とか間違えるの失礼だ, Hito no namae toka machigaeru no shitsurei da) is the thirty-third episode of the Gintama anime.
Introduction
Edit
The Yorozuya receive two Amanto carpenters from Sakamoto as an apology for destroying their home two episodes back.
The gang starts to repair the Yorozuya place, but all they manage to achieve is causing further damage to the building. They receive a box from Sakamoto, who destroyed their house with his spaceship, in which they find two Amanto carpenters, Unkei and Kaikei. They have been paid by Sakamoto to fix Yorozuya's place. The trio has little faith in them, which causes the carpenters to work all night long and have the house ready the next day. However, the gang is displeased because of small flaws in the construction. Gintoki uses a fictional character, Mokichi, without the carpenters knowing, in order to fire them up and make them work harder and better. The next day, the brothers have finished the work, but the gang asks for further stuff in the house's exteriors, with Gintoki making up another story with Mokichi to raise their morale. The next day, though, one of the carpenters listens to Gintoki saying that Mokichi never existed and so the brothers decide to leave their work and get away from Earth. Gintoki catches up to them in the terminal and explains that the whole Mokichi story was misunderstood by them and that Mokichi exists inside every carpenter's heart. This makes them return and finish their job.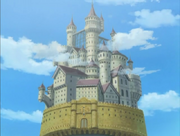 The episode ends with a reporter visiting the Yorozuya's place to find a whole castle estate built there. He tries to ring the doorbell, but this causes the castle to fly up into space. The trio is revealed in the debris, their house being destroyed once more.
Characters
Edit
When Ginoki and Kagura show the carpenters how their place's exterior should be, Gintoki shows them the Parthenon and Kagura the Castle in the Sky, referencing the famous anime by Hayao Miyazaki. At the end of the episode, the carpenters have made the Castle featured with Parthenon columns.
The Atsunosuke Watanabe Building Report is a parody of the Japanese show where celebrities visit various interesting sites around Japan.
In the manga, the carpenters never learned about Gintoki's trick. They built the house and when the Yorozuya returned, they found their house launched already to space.
---
Back to Episode List
Go back to Main Page
---
References
Edit
Community content is available under
CC-BY-SA
unless otherwise noted.