Introduction
Edit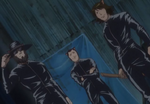 Cat's Punch キャッツパンチ
The name of 'Thief Gang Cat's Punch' 窃盗団「キャッツパンチ」 was 'inspired' by the name 'Monkey Punch' モンキーパンチ, which was 加藤一彦 Katou Kazuhiko's pen-name when he created the Lupin series of manga. 'Lupin the 3rd' TV series first aired in 1971. For more details on the Lupin manga and anime series, refer to Wikipedia Link


Kurikan's クリカン name is derived from ルパン三世 Rupan Sansei aka Arsène Lupin III's seiyuu 栗田 貫一 Kurita Kanichi, whose nickname is Kurikan. The characterization of Kurikan follows that of Lupin III fairly closely, including his height, weight and the signature red coat.


Yoremon 四ェ門 is a reference to Ishikawa Goemon 石川 五ェ門 in the ルパン三世 Rupan Sansei series. Goemon always carries a sword called 斬鉄剣 Zantetsuken, which is why Kurikan asked Yoremon for the sword to cut off Catherine's ears in Episode 97.


Catherine キャサリン takes over the role of 峰 不二子 Mine Fujiko, though in Gintama, these 2 are not romantically linked (yet), unlike their equivalents in the ルパン三世 Rupan Sansei series.


The last one, unnamed in the story itself, is a reference to 次元 大介 Jigen Daisuke from the ルパン三世 Rupan Sansei series. Jigen is a marksman, his eyes often covered by a hat, and his counterpart here does the same, wearing a pair of sunglasses in addition to the hat, in Episode 97 of the anime. His name isn't mentioned in the story itself, but it's said to be 柏谷 Kashiwaya by the manga's author, Sorachi, in a letters page from volume 04 of the manga.


Ex-Member
Edit
| | | | | | |
| --- | --- | --- | --- | --- | --- |
| キャサリン | | | | | |
Current Members
Edit
Community content is available under
CC-BY-SA
unless otherwise noted.