Asa ANSWER is the thirteenth ending of the Gintama anime; it is performed by PENGIN.
Characters
[
]
Characters in order of appearance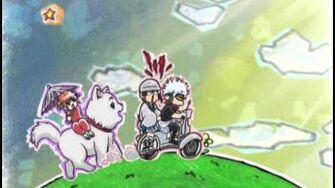 Missing CD album cover image?

エンデイングテーマ Ending Theme - ED13: 「朝ANSWER」 asa answer by PENGIN   Official Website

作詞 Lyrics - PENGIN
作曲 Song-writer - Pengin
編曲 Music Arrangement - PENGIN, Odaka Mitsutarou, PENGIN、Koma2 Kaz
EPICrecords Japan

right|180px
Kanji

流れに沿って生きてゆけばいい
逃げ場所見つけて 隠れちゃえばいい
顔色変えないで 頷いたふり
『なんとかなるよ』全部、問題は後に回したり

気づけば取り残されて
君の背中追いかけるばかりの鳥になって
あの空に憧れ
雲を掻き分けて
光を探す

朝になっても 霧が溶けずに
陽が昇っても 君は見えないけど
僕の世界に闇が誘いかけても
笑い飛ばして 光探すよ 今を楽しんで

謎だらけの意味が解けない
罪だらけの 日々に愛をくれる
確かの今日と まだ見ぬ明日の
答え探しの旅に出る
 
その声を 聞かせて…

無縁の世界なんてあるのだろうか?
無念で終えるより貫けばいい
裏切られても傷つかないぐらいの距離
冷めた関係が寂しかったり

納得がいかなくて
明日の自分、本当の自分じゃないようで
何かに脅えて
熱い想い何処に辿り着ける

君にとってのチカラになりたい
たった一人でも声を上げたい
もし誰か無邪気に僕の背中に指を差しても
強く 立ち上がれよ 曝け出せ

(rap)
変幻自在で厳選したい先はいったい何処が安全地帯!!
出会いの中で信じていたいのさ 踏み堪えるぜ 限界はない
LOW HI MIDDLE 合わせたなら 勝敗挑む 間違いはない
get up get up さぁ朝になれ 決意拳の中 walk this way!!

まるで僕らは常識に迷い込んでる
当たり前のカタチに恋を抱いてる
神の子達はいつの間に踊らされてる
それがイヤなら そのカベ
今すぐ壊せ!!!!

朝になっても 霧が溶けずに
陽は昇っても 君は見えないけど
僕の世界に君が微笑んだなら
全ての闇に光が射すよ
痛みを越えて

君にとってのチカラになりたい
愛だらけの日々になるように
抱えきれない程の夢を探そう
見えないけれど 確かに

その声が 聞こえる…

Romaji

nagare ni sotte ikite yukeba ii
nigebasho mitsukete kakurechaeba ii
kaoiro kaenai de unazuita furi
nanto ka naru yo zenbu mondai wa ato ni mawashitari

kitsukeba tori nokosarete
kimi no senaka oikakeru bakari no tori ni natte
ano sora ni akogare
kumo o kakiwakete
hikari o sagasu

asa ni natte mo kiri ga tokezu ni
hi ga nobotte mo kimi wa mienai kedo
boku no sekai ni yami ga sasoikakete mo
warai tobashite hikari sagasu yo ima o tanoshin de

nazo darake no imi ga tokenai
tsumi darake no hibi ni ai o kureru
tashika no kyou to mada minu asu no
kotae sagashi no tabi ni deru

sono koe o kikasete

muen no sekai nante aru no darou ka
munen de oeru yori tsuranukeba ii
uragirarete mo kizutsukanai gurai no kyori
sameta kankei ga sabishikattari

nattogaika nakute
ashita no jibun honto no jibun janai you de
nani ka ni obiete
atsui omoi doko ni tadoritsukeru

kimi ni totte no chikara ni naritai
tatta hitori demo koe o agetai
moshi dareka mujaki ni boku no senaka ni yubi o sashitemo
tsuyoku tachiagareyo sarakedase

(rap)
hengenjizai de gensenshitai saki wa ittai doko ka anzen chidai
deai no naka de shijiteitai no sa fumikoraeruze genkai wa nai
LOW HI MIDDLE awaseta nara shouhai idomu machigai wa nai
GET UP GET UP saa asa ni nare ketsui kobushi no naka WALK THIS WAY

marude bokura wa joushiki ni mayoikonderu
atarimae no katachi ni koi o idaiteru
kami no kotachi wa itsu no ma ni odorasareteru
sore ga iya nara sono kabe
ima sugu kowase

asa ni natte mo kiri ga tokezu ni
hi ga nobotte mo kimi wa mienai kedo
boku no sekai ni kimi ga hohoenda nara
subete no yami ni hikari ga sasu yo
itami o koete

kimi ni totte no chikara ni naritai
ai darake no hibi ni naru you ni
kakaekirenai hodo no yume o sagasou
mienai keredo tashika ni

sono koe ga kikoeru
Trivia
[
]
This is the only ending theme to be composed entirely of chibi animation.
In Episode 163 this is ending of Otsu Arc.
References
[
]